2004 Michigan Association of Broadcasters Hall of Fame inductee.
See Ted's Entry on the MAB Hall of Fame
In 1983, Ted made a change of venue, leaving long-time home, WPAG to join the team at 1600 WAAM. Hard core followers just turned their dials and followed him to the top of the AM dial. Ted had been on WPAG for 16 years, covering every position from morning news to host of the station's "Community Comment" segments in tale morning and early afternoon. At WAAM, Ted served as news director, as well as hosting his own three-hour show and the daily editorial "Heusel Report," five days a week. Ted continues to host his much loved talk show on WAAM, and can be heard each Saturday afternoon from 3:00 to 5:00 pm.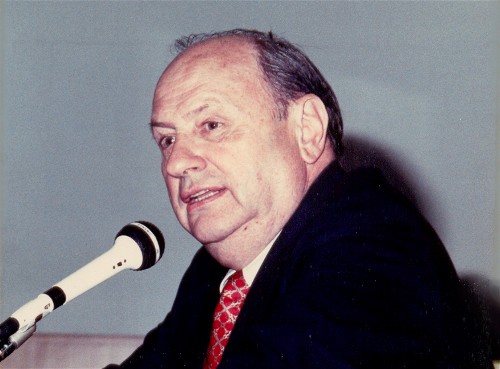 Among the thousands of interviews Ted has done over the years, some that stand out are Paul W. Tibbets, Jr., the B-29 pilot who in August of 1945 flew the famous Enola Gay to Hiroshima. That morning, when the world's first atomic bomb was released, the course of history and the nature of warfare was changed forever.
Another very interesting iterview for Ted was the day he interviewed the man who was convicted of shooting civil rights leader Martin Luther King Jr. James Earl Ray was serving a 99-year term for the assasination when he was interviewed by Mr. Heusel.
Other famous guests Ted has had on his show over the years include presidential candidate John Anderson, civil rights leader Rosa Parks, several local political figures including former Ann Arbor Mayor Ingrid Sheldon, and current Mayor John Heiftje.
Some of the repeat guests Ted's listeners always enjoy are Author and Historian Grace Shackman, and the ever fascinating Peter Fletcher.